Selfies
Day 50 - Marathon Training - 40 mins easy
I jogged for 40 minutes or so on some soft ground to try and recover from the 17 mile epic of yesterday. But that is
not
what I'm here to talk about.
I am going to explain how I produce the photos for this blog because I think it is pretty damn interesting even if no-one else does. Half of me wants to propagate the idea that I am so famous and interesting that I am followed on most of my training runs by a professional photographer or even a little group of paparazzi who snap my every move. I could try to do that … but on the other hand, it might be better in the
long run
(see what I did there?) to tell the truth.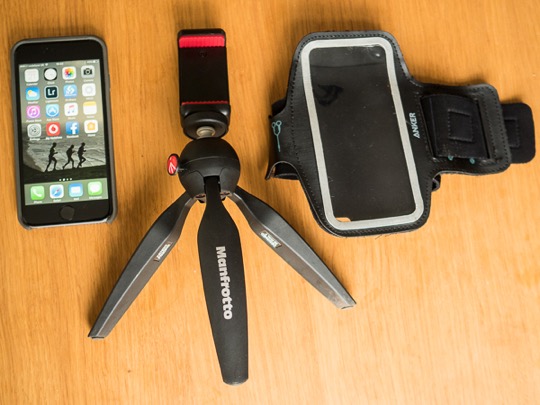 The picture here gives it all away. From left to right - 1) an iPhone 6s, 2) a Manfrotto mini tripod with smartphone clamp, 3) an iPhone sports armband by Anker (no W in that).
Yes, all the lovely pictures you see in this blog are taken by an iPhone*. How do I carry this little lot? Well the phone goes into the armband - the armband gets velcro strapped onto my bicep (massive amount of velcro required) - and I carry the little tripod in my hand. Yes, I carry the tripod because it's less irritating than having it stuck down my running tights and avoids difficult to explain injuries at the GP surgery. I tend to regularly switch the carrying hand whilst running because we all know the importance of
balance
in running don't we? If I carried it in one hand all the time, I could end up with plantar tripoditis - a common condition amongst vain runners who insist on carrying photography equipment and keep bending down to look for good angles.
The mini tripod, with legs splayed, mounts the iPhone camera only about 18 cm or 7 inches off the ground - which explains why you see a lot of dramatic low angle photos in this blog. I do like low angle shots but they are mainly there because I've got no other choice! (Note to self: a bit more experimentation required on future runs … put it up on a wall or the back of a cow or something.)
By the way, I don't take this 3 part kit with me everytime I run, in fact most times I don't. It's annoying to run holding the tripod so I ration it to once or twice a week, maybe when the weather is good or I am going to be passing something particularly new or visually interesting. The other thing is, I know that if I have the ability to take pictures on the run, I will see photo opportunities every hundred metres or so and will spend more time stopping to take pictures than actually running. I suppose I have to 'lock away' the phone camera to avoid my addiction to using it.
I have explained the kit but how do I actually take the photos of myself running along in perfect natural pose? (Ha, ha!) Not always easy but here goes:
Mount the iPhone in the tripod clamp - landscape format with the lens at the top and facing the potential subject
Get down on the ground to look at the screen and compose the shot - creating a 'space in the frame' where I imagine myself running
Set the self timer to 10 secs
Set HDR to 'on' (if you don't you get a burst of 10 shots - you might want this, I don't)
Lightly press the on screen shutter button
Get off the ground and RUN into position!
Come back and review the picture
Repeat actions 5 to 7 until you get a decent shot with yourself in the frame in the right place!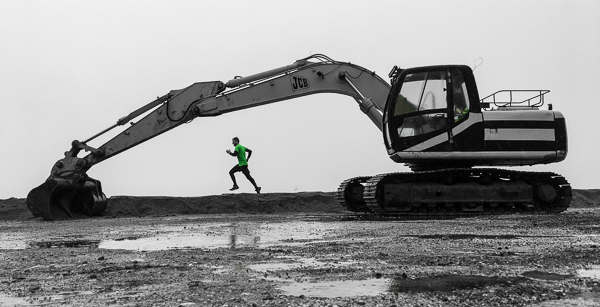 I try to get the composition right in the first place and to be honest if a picture doesn't work after 3 or 4 attempts I don't bother. The one above is one of my favourites from the training programme so far and I will admit I had about six goes at this before I got one that I liked i.e. bang in the middle of the digger arm. What surprised me on the attempted shots before this, was that I kept running too far. It's amazing how far you can get in 10 seconds after pressing the shutter. In this case I had to scramble off and get behind the digger, jump onto a shingle bank and then run across the frame. I am honestly not that fast but the wide angle of the iPhone lens seems to expand the distances involved.
I guess the final point to make is about editing the photos. I use
Adobe Lightroom
and spend no more than a few minutes per picture doing some or all of the following in this order;
cropping the frame
adjusting exposure & contrast
adjusting highlights (usually reducing) & shadows (usually increasing)
adding a bit on the clarity and vibrance sliders
So there you have it. Sorry to disappoint anyone who thought I really did have another photographer following my every step. It really is just my own sham vanity exercise but I do enjoy trying to produce a good photo and everyone of these shots is
really
me,
really
running on the route I did that day. It's just that sometimes I had to do it all over again … as if the training wasn't hard enough, without also having to please the photographer.
*
Truth alert … one exception so far to all the pictures having been taken on an iPhone - the pics taken on 27 January in the blog piece called "Mist Clearing" were taken by an Olympus Pen-F - a 'proper' camera.