Tuesday 25 April 2017
2 Days after the Marathon - Walk to West Bay

"At any point in our lives we find ourselves somewhere between the beginning and the end … the charm of the game of life is that we never know where we are along that voyage."*
The whole body is stiff and sore. My legs are particularly bad but it did help to walk and the further I walked the more they freed up. I walked down to West Bay, one of my favourite training grounds and, although dressed in my 'civvies' this time, recreated 'that pose' for one last photograph. And I also spent time reflecting on the marathon experience.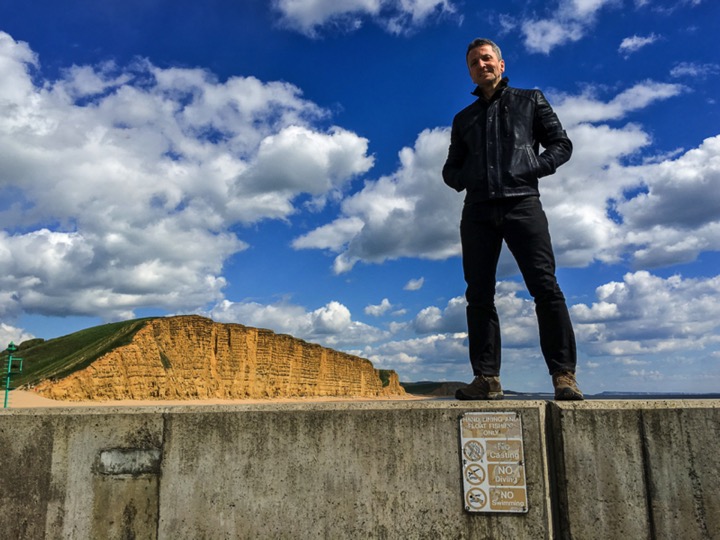 I got round in 3 hours 33 minutes. I managed to hold roughly 8 minute mile pace for the whole course until about 20 miles but I just couldn't maintain it right to the finish. I was slipping to 8 and a half minute miles and, although I was working much much harder and digging in all that I could, it wasn't having much effect. Of course it is in those last few miles that you find out what the marathon is all about. I DID find out what it is all about and, although it hurt, I'm sort of glad that I did. I was tested like never before and yet… I got through it and I'm SO proud of how hard I was able to run right to the end. With so much
unfinished business
at stake, it put a lot of pressure on me but I was able to handle it …
just
. (End of "I'm so proud" section.)
I experienced very little euphoria or joy on crossing the finish line - just a minor wave of relief that it was over and then major waves of pain - pain that somehow I had held back for the previous 3 hours or so. I staggered through a group of well meaning officials and volunteers who gently steered me in the right direction and one of them smiled and put a medal round my neck. I think some of them said, "Well done".
And then I headed for the medical tent.
The tent ran for what seemed like half a mile and was staffed by vast numbers of young men and women in green uniforms. The environment was not far off what I imagine a field hospital in a war zone to look like. I was led past other suffering runners, either laid out on stretchers or vomiting into bags. I then spent the next 20 minutes or so having two extremely painful toenails patched up. The fourth toe on each foot was a funny mix of red, purple and black colouring and the toenails were excruciating to the touch. They padded and patched them up so that I could hobble away to find my family.
I didn't think that my surname would add in any way to the pain of taking part in the marathon but it did. Having a name beginning with 'W' meant that I had the maximum distance to stagger and limp towards the family and friends meet and greet area in St James' Park. I had agreed to meet my wife Maia, and youngest daughter, Hannah by the letter 'W' but it felt like a letter too far. After leaving the medical tent, my feet were so sore I was not able to pull the laces tight on my trainers. This meant that amongst the throng of runners shuffling towards their loved ones, someone inadvertently stepped on the back of my right running shoe and flipped it off. I couldn't bend in any normal way to put it back on and I half collapsed onto the tarmac path, with people stepping over me, while I struggled on the ground to get it back on again. I honestly don't know how I got back up again without any help, but I do know that the effort involved set off the worst cramps I have ever experienced all down one side of my abdominal muscles - the weirdest and most intense pain. I just stood there in agony, breathing deeply and bending in different ways until eventually it subsided. This whole performance took place only centimetres away from a large crowd of anonymous (to me) friend and family supporters who were the other side of a temporary barrier. I didn't get any offers of support, thank god … I was embarrassed by my agony and just wanted to get away.
I wanted, more than anything, to see Maia, Rebecca and Hannah - to put my arms around them, to gain their approval and then I could allow myself to say I had finished.
And at that point I started to get emotional, very emotional. I knew that I wanted to share it with them. The whole stupid venture is absolutely pointless if you have no-one to share it with. What if I had crossed that line after ALL that training and ALL that hard work during the run itself and I was on my own. I would have felt suddenly very lonely and thought 'What the **** was all that about?'.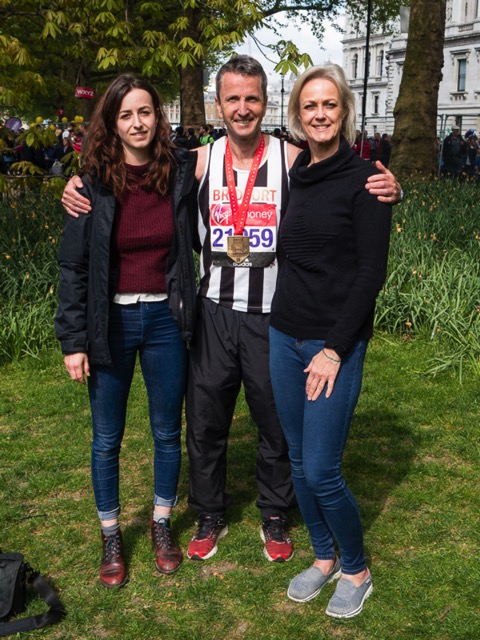 "Once we have built our secure egos, we have to learn to dissolve them and live from deeper selves"*
I think I have deluded myself for months now that this is a little story of personal pride and unfinished business and it is … but crossing the line just put the whole thing into perspective. The pointlessness and selfishness of it all came home to me in the recognition that all I really wanted was to have the respect and love of those closest to me and then to lie down and somebody say, "Rest now … it's all over."
I hugged them both and had a small sob. Maia had even bought me a present of a specially wrapped Mars Bar - something I had been denied by the sponsors in 1986 when I failed to cross the finish line. And now, 31 years later - a finisher's medal
and
a Mars Bar - life doesn't get much better than that!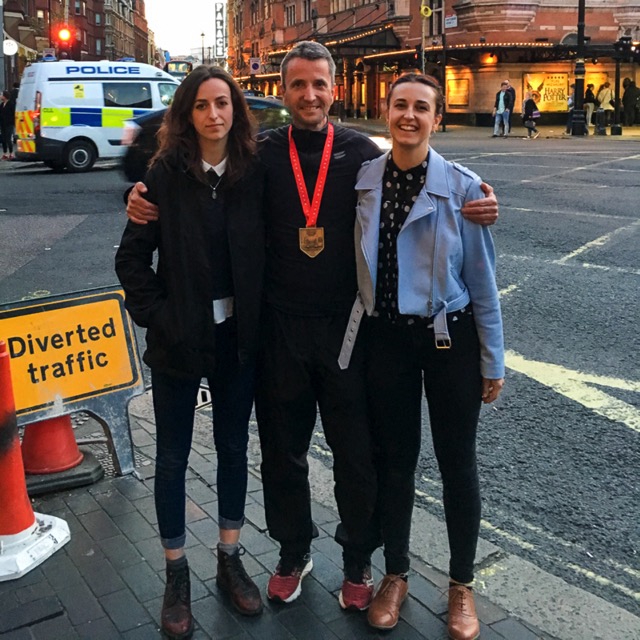 Later that evening we met up with Rebecca too (my eldest daughter) and enjoyed a lovely family meal and the most amazing cold beer I have ever tasted. I ran a long way for that one.
Marathon Pace
Nobody but me cares about this stuff. My dream target of 3 hours 30 minutes would have meant eight successive 5K splits of 25 minutes plus a final 10 minutes of running. (A marathon is 42K). My actual 5K splits were:
24:25
25:02
25:11
25:00
24:59
25:11
26:02
25:47
11:48
The last tick on the 'To Do' list
I have put the final tick of 'Done' on my Training Plan but contrary to my blog entry of 6 Feb, I did not savour the moment at all. In fact I had to make a real effort to go back to the damn thing and do it. My 16 week spreadsheet suddenly had no meaning to me and I just opened it up and put in the last tick, simply because I said I would. It really worked for me while I was training; It was interesting and motivational but now … now I don't care.
Marathon_Plan_Clive
Postscript
Having studied the Guinness World Records that were set on the day, I feel somewhat ashamed that Mr Potato Head was nearly 10 minutes ahead of me. Although I am mightily relieved that Ben Blowes (great name) who broke the record for "Fastest Marathon carrying a Household Appliance" - was over 2 hours behind me. It did set me thinking, if I was anywhere near him as he approached the finish on The Mall and his legs started to give way - would I have been noble and selfless enough to help him carry his Tumble Dryer across the line? I hope I would do the right thing but until you are actually at that moment - faced with an exhausted man and his appliance, I don't think any of us can honestly answer what we would do.
*Quotes above from Anthony Seldon, "Beyond Happiness" published by Yellow Kite.