2 Days after the Marathon - Walk to West Bay

"At any point in our lives we find ourselves somewhere between the beginning and the end … the charm of the game of life is that we never know where we are along that voyage."*
The whole body is stiff and sore. My legs are particularly bad but it did help to walk and the further I walked the more they freed up. I walked down to West Bay, one of my favourite training grounds and, although dressed in my 'civvies' this time, recreated 'that pose' for one last photograph. And I also spent time reflecting on the marathon experience.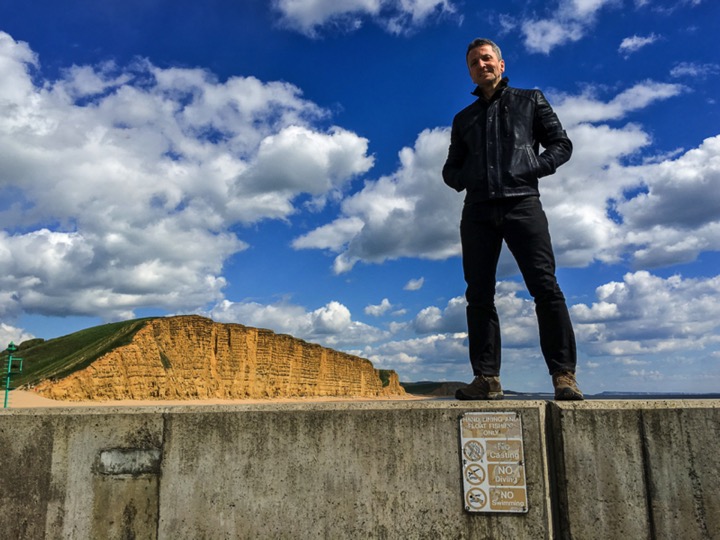 I got round in 3 hours 33 minutes. I managed to hold roughly 8 minute mile pace for the whole course until about 20 miles but I just couldn't maintain it right to the finish. I was slipping to 8 and a half minute miles and, although I was working much much harder and digging in all that I could, it wasn't having much effect. Of course it is in those last few miles that you find out what the marathon is all about. I DID find out what it is all about and, although it hurt, I'm sort of glad that I did. I was tested like never before and yet… I got through it and I'm SO proud of how hard I was able to run right to the end. With so much
unfinished business
at stake, it put a lot of pressure on me but I was able to handle it …
just
. (End of "I'm so proud" section.)
I experienced very little euphoria or joy on crossing the finish line - just a minor wave of relief that it was over and then major waves of pain - pain that somehow I had held back for the previous 3 hours or so. I staggered through a group of well meaning officials and volunteers who gently steered me in the right direction and one of them smiled and put a medal round my neck. I think some of them said, "Well done".
And then I headed for the medical tent.
The tent ran for what seemed like half a mile and was staffed by vast numbers of young men and women in green uniforms. The environment was not far off what I imagine a field hospital in a war zone to look like. I was led past other suffering runners, either laid out on stretchers or vomiting into bags. I then spent the next 20 minutes or so having two extremely painful toenails patched up. The fourth toe on each foot was a funny mix of red, purple and black colouring and the toenails were excruciating to the touch. They padded and patched them up so that I could hobble away to find my family.
I didn't think that my surname would add in any way to the pain of taking part in the marathon but it did. Having a name beginning with 'W' meant that I had the maximum distance to stagger and limp towards the family and friends meet and greet area in St James' Park. I had agreed to meet my wife Maia, and youngest daughter, Hannah by the letter 'W' but it felt like a letter too far. After leaving the medical tent, my feet were so sore I was not able to pull the laces tight on my trainers. This meant that amongst the throng of runners shuffling towards their loved ones, someone inadvertently stepped on the back of my right running shoe and flipped it off. I couldn't bend in any normal way to put it back on and I half collapsed onto the tarmac path, with people stepping over me, while I struggled on the ground to get it back on again. I honestly don't know how I got back up again without any help, but I do know that the effort involved set off the worst cramps I have ever experienced all down one side of my abdominal muscles - the weirdest and most intense pain. I just stood there in agony, breathing deeply and bending in different ways until eventually it subsided. This whole performance took place only centimetres away from a large crowd of anonymous (to me) friend and family supporters who were the other side of a temporary barrier. I didn't get any offers of support, thank god … I was embarrassed by my agony and just wanted to get away.
I wanted, more than anything, to see Maia, Rebecca and Hannah - to put my arms around them, to gain their approval and then I could allow myself to say I had finished.
And at that point I started to get emotional, very emotional. I knew that I wanted to share it with them. The whole stupid venture is absolutely pointless if you have no-one to share it with. What if I had crossed that line after ALL that training and ALL that hard work during the run itself and I was on my own. I would have felt suddenly very lonely and thought 'What the **** was all that about?'.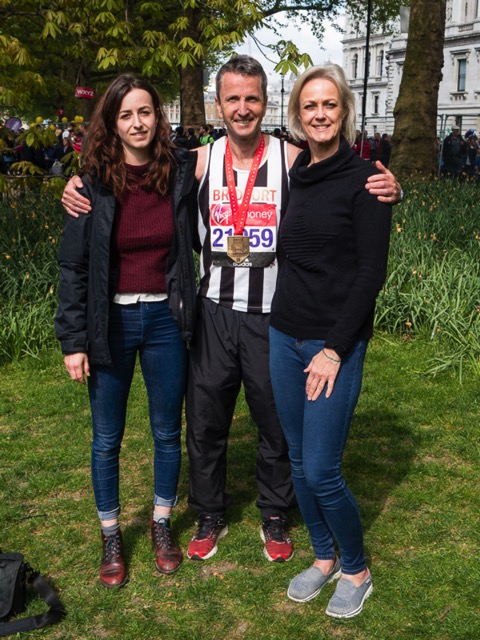 "Once we have built our secure egos, we have to learn to dissolve them and live from deeper selves"*
I think I have deluded myself for months now that this is a little story of personal pride and unfinished business and it is … but crossing the line just put the whole thing into perspective. The pointlessness and selfishness of it all came home to me in the recognition that all I really wanted was to have the respect and love of those closest to me and then to lie down and somebody say, "Rest now … it's all over."
I hugged them both and had a small sob. Maia had even bought me a present of a specially wrapped Mars Bar - something I had been denied by the sponsors in 1986 when I failed to cross the finish line. And now, 31 years later - a finisher's medal
and
a Mars Bar - life doesn't get much better than that!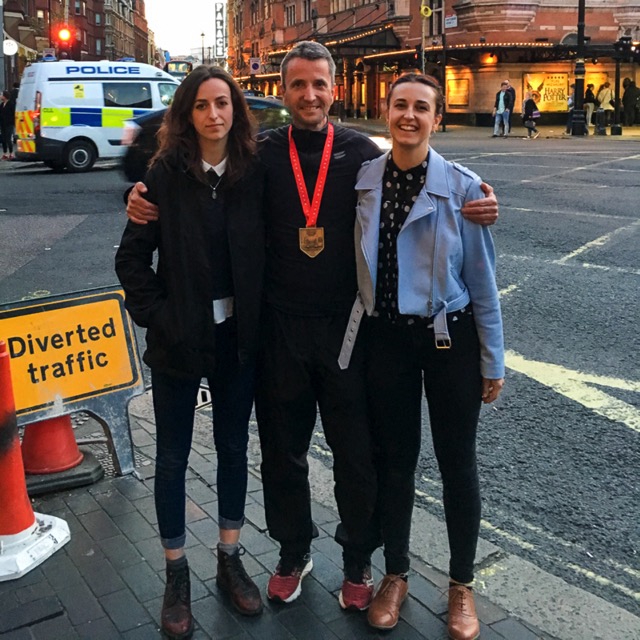 Later that evening we met up with Rebecca too (my eldest daughter) and enjoyed a lovely family meal and the most amazing cold beer I have ever tasted. I ran a long way for that one.
Marathon Pace
Nobody but me cares about this stuff. My dream target of 3 hours 30 minutes would have meant eight successive 5K splits of 25 minutes plus a final 10 minutes of running. (A marathon is 42K). My actual 5K splits were:
24:25
25:02
25:11
25:00
24:59
25:11
26:02
25:47
11:48
The last tick on the 'To Do' list
I have put the final tick of 'Done' on my Training Plan but contrary to my blog entry of 6 Feb, I did not savour the moment at all. In fact I had to make a real effort to go back to the damn thing and do it. My 16 week spreadsheet suddenly had no meaning to me and I just opened it up and put in the last tick, simply because I said I would. It really worked for me while I was training; It was interesting and motivational but now … now I don't care.
Marathon_Plan_Clive
Postscript
Having studied the Guinness World Records that were set on the day, I feel somewhat ashamed that Mr Potato Head was nearly 10 minutes ahead of me. Although I am mightily relieved that Ben Blowes (great name) who broke the record for "Fastest Marathon carrying a Household Appliance" - was over 2 hours behind me. It did set me thinking, if I was anywhere near him as he approached the finish on The Mall and his legs started to give way - would I have been noble and selfless enough to help him carry his Tumble Dryer across the line? I hope I would do the right thing but until you are actually at that moment - faced with an exhausted man and his appliance, I don't think any of us can honestly answer what we would do.
*Quotes above from Anthony Seldon, "Beyond Happiness" published by Yellow Kite.
Day 73 - Gym
I have continued with my gym sessions and I am sure they are helping with my overall fitness and more specifically with my leg strength and my core strength. Because of the knee problems it has become even more important and I'm hoping that some carefully controlled strengthening of the legs and quad muscles will reduce the chances of things flaring up again.
Click Link to Marathon Plan
I have included a link here to my full 16 week training plan. I must give credit as to where it has come from. This is Martin Yelling's 'Advanced Training Plan' from the London Marathon website. Thanks Martin - it has served me well, apart from when I've been injured, which is clearly not your fault!
Apart from injury breaks I have stuck to it quite rigidly. I have found it quite hard - just about at my limit but not beyond, which is exactly what I needed. I do like the variety in it - the fact that every little interval session or speed session is slightly different. It prevents any sense of boredom and I guess it works on your body slightly differently everytime.
Each time I've been injured it has really bugged me that I have missed out runs and training sessions because it is all part of one carefully designed 'whole' and you can't go back and make up for the bits you've missed. But I'm back on track this week and maybe I'm better off thinking that some of that enforced rest has been good for me.
Marathon Training - Day 35 (Completion of Week 5) - 12 miles easy
(Link to My Marathon Plan - weeks 11-16 not yet added.)
Marathon_Plan_Clive_WK5
Even though it's the longest run I've done this year, it felt comfortable fitting in a 12 mile 'easy pace' run along the coast today. It was also good to do it without spending any time on my backside in the mud - something which was starting to become a regular feature of my training.
When I got back I did what I always do, usually before I even step into the shower. I 'ticked' the run as DONE on my Training Plan and filled in the other columns for Distance, Feeling and Comments. I have written out my 16 week plan on an Excel Spreadsheet with columns for:
Plan day
Date/day of the week
Content of run/session
Column for a TICK to show DONE
Distance covered in miles
How I felt: (Poor/OK/Good)
Comments
You know what, I
like
doing this. I look forward to getting back and giving myself a TICK for my efforts! It has only occurred to me since starting this training programme for the London Marathon, that one of the reasons this appeals to me, is that it is like following the ultimate 'To Do' list!
For as long as I can remember, and certainly for a huge chunk of my adult life, I have compiled daily 'to do' lists. I have a scrap of paper with a hand written list in bullet point format, either on my desk or somewhere about the house (I use them for both work tasks and domestic tasks). An additional 'nerd' factor comes from the fact that I roughly draw square boxes to the right of each item so that I can put a tick in the box when I have achieved them. But … wait for it, I nearly always use a
red pen
in the box to make the 'ticks'. I don't know what it is, but there is something about the contrasting colour that makes the tick stand out and maybe there is something deep seated about 'marks from the teacher' in an exercise book - only here the 'red tick' is always a good thing - because something has been completed.
I can remember one of the first ever 'self help' style books I bought was called "Getting Things Done" by Roger Black (not the runner!). I've just looked it up and you can buy old copies on Amazon for 1p!! Maybe I got the 'tick list' idea from him but whatever the case, I have spent a long time being driven by the idea (obsessed by the idea maybe?) of doing things on my daily list and rewarding myself with a DONE tick.
I have spent recent years being more philosophical and reflective about myself and trying to ditch the
striving
and
achieving
side of my character - knowing that this has led me to some good things but has also been the source of disappointment, depression and unhappiness. So why do I cling on to the daily 'to do' list? I don't really know but I think it is a very deeply ingrained habit. I also find it very useful and I think on balance the mild satisfaction I still get from ticking things off, balances out the dark, obsessional elements associated with it. Also as I get older, I suspect the daily list will be a godsend for when I get to those moments of mental paralysis - coming to a complete stop and shouting out, "What the hell was I going to do today?".
I think I have got things more in balance these days. I would much rather be out running 10 miles or more through the Dorset countryside, than sitting at home ticking boxes on a list. But how wonderful to be able to do both - Ha Ha! But there is no doubt that, for me, there is a deep mental and physical satisfaction at work here - working my way daily through a Mega 16 week To Do List which culminates in a final task of running 26 miles 385 yards on the streets of London. For that special day I think I need to create a giant box on my spreadsheet and massively increase the font size on my tick. (Innuendo alert!)
If and when I complete the London Marathon it is going to be like completing my life's biggest ever 'to do' list. Once I get back home, I will savour the moment as I put in that giant tick to say DONE. And I should probably leave it there … it will be really healthy for me to ditch the lists, trust my memory, become more spontaneous and live for the moment.
Sounds good but I just have this feeling that within a few days, I will start another list …