Half Way There
Day 56 - Marathon Training - 20 miles steady (last 4 at marathon pace)
End of Week 8
Quite a milestone today and the sheer exhaustion in the photo says it all. The completion of 8 weeks of training as part of a 16 week programme - so I'm half way there. It was also the longest and toughest run so far. 20 miles, with the aim of running the last 4 at 'marathon pace'.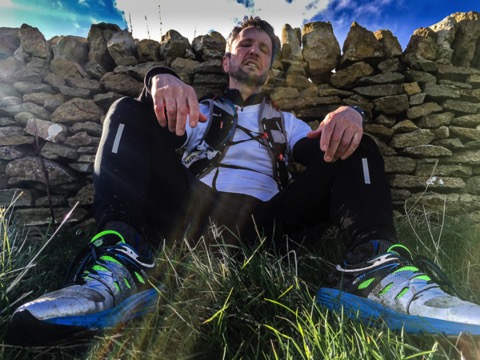 It's debateable what 'marathon pace' is for me but I know I'm aiming for somewhere between 8 minute miles (the dream) and 8 and a half minute miles (the realistic target). So, when it got to the end of mile 16, I went for it and pushed my legs to do things they really didn't want to do.
I ran the next 3 miles (miles 17, 18 and 19) at a pace of 7 mins 50 seconds per mile and then part hobbled and part winced my way over the last mile back to the car. Most of the miles were run on the road in the good old Bride Valley, the same venue as last Monday's long run. It was much colder, wetter and windier than last Monday, so I had to contend with running long stretches into the wind, where even the flat sections felt like a tough climb. I was even more tired this week than last and after only about 6 miles it felt like really hard work. It was so much more about
mind
over
matter
but I guess I'm quite pleased that I was able to keep going, and as an exercise in mental toughness for the marathon, it was probably more useful than the physical effort involved.
In order to ration my time on the hard road surface, I did run the first 4 miles or so off road on the coast path and, although this is always much slower per mile, it's far more enjoyable and provides better views and photo opportunities. However, by the time I got to the end of the run, these scenes of soft ground, wind swept beaches and dramatic grey skies were completely forgotten.
I find it amazing that I can run constantly for 3 hours and then seconds after I have said 'stop, you've done the distance' - I am struggling even to walk. It's like a sudden injection of lead into the lower half of my body. It's heavy, unbending and painful. I sometimes laugh out loud with a sort of mixture of pain and hysterical laughter. Although I'm unbelievably stiff and sore, I'm sufficiently objective to see the comedy in the situation. While running, I am imitating someone 20 years younger and then I stop, and in the space of 20 seconds or so, I experience the feeling of someone 20 years older. It's the laughter of wisdom over foolish youth.
Still that's 8 weeks of hard training complete. I'm half way there. Half way to madness? Probably.