What a joy!
What a joy. I ran from my place to Seatown and back today. An extremely tough run - about 9 miles in total along some of the most mountainous parts of the Jurassic Coast. I suppose for some people it would be their definition of torture. But for me, when I'm feeling good and when the weather is good, it is a life affirming experience. It's not as though I felt bad when I started but I still came back feeling a whole lot better.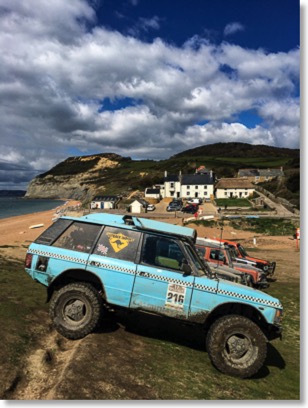 I met a number of people on the coast path and there was always a smile and a cheery 'Hello' or the common - 'Ooo I wish I was as fit as you' or 'you make me feel tired just watching you'. And it always cheers me and I quip back 'It's all for show, I'm knackered on the inside'! I've learnt to 'hang on' to this positive interaction with my fellow humans. How nice … yes, nice … to smile and exchange a few words with strangers in an instant mutual appreciation of the landscape, the weather, the exercise and the passing camaraderie. It is by hanging on to these positive gems of human experience for a bit longer than they actually last, that we learn to enjoy life more - to appreciate the life we have - instead of dwelling on the life we don't have or the things that might go wrong. And so I make a point of savouring these moments for at least a few minutes after they have happened - a bit like sucking a tasty sweet as long as you can instead of biting and swallowing it straight away. And so, if you see me grinning as I trot across the Dorset coastline, you will know one of the reasons why.
Well over half way into the run, I stagger up to the top of Thorncombe Beacon. Apparently it is the second highest point on the South Coast of England. Sometimes I would believe it if I was told it was the second highest mountain in the Himalayas. As you are running up it has the ability to suck more breath out of you than you can take in and it turns the most flexible leg muscles into solid pieces of lead. The amazing thing is you can be fervently 'running' up it to the best of your ability - your little feet a blur as you tackle the ridiculous slope - while somebody
walking
with a decent stride can pass you and wave!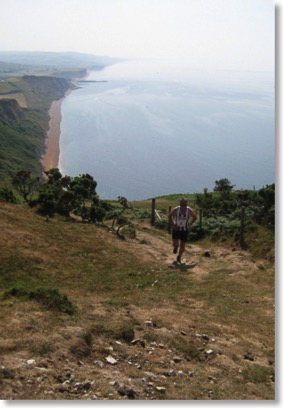 Anyway, until recently, I have always seen it as a badge of pride, to run up Thorncombe Beacon - from the foothills to the summit - EVERY time. No matter how bad I am feeling, no matter that it would probably be quicker to walk the top section, no matter that no-one can see me, I ALWAYS used to RUN it. It is part of my make up to strive, to push, even to punish myself to get to the top. And if I didn't it would be a sign of getting older, of weakness, of giving up. That would be terrible wouldn't it?
Oh dear! Today I didn't run the whole way. I ran two thirds of it and then WALKED the rest. What on earth has happened to me? And worse than this I have to confess that I have done this two or three times now. I have broken the unbroken record of running to the top - the record that was only known by
me
and only recorded in
my
brain. But you see, now I have come to the realisation that I am still
physically fit
enough to run it but I'm also
mentally flexible
enough to not have to.
For me, it is this innate striving behaviour that, unbeknown to me at the time, was sowing seeds that would grow one day into full blown depression. Like scattering a trail of poisonous breadcrumbs that was being followed and lapped up by an insidious monster. One day the monster caught up with me and it took over me and almost scared me to death. It made me desperately sad and fearful and trapped me a lot of the time, even from getting out of bed.
So maybe that's why I kept 'running up that hill' … to escape from the monster! The irony is, like many things in life, I have solved it by turning it on its head. By choosing
not
to run up that hill when I don't feel like it, I have left the monster behind. Why all that striving in the first place? Well that's another story. I have some theories but no firm answers and right now it doesn't really matter. It's still there but it's not as all consuming as it was, although I bet the next time I face that bloody hill, I'll run up it again!
There was something else I did differently on the run today. Like many of my regular running routes, I follow the same paths, even when there is a choice that will bring me out at the same destination. Even with something as free and liberating as going out on a solo run in beautiful coastal countryside, there is an element of habit. There is something reassuring and safe about the
habitual
but the one thing it doesn't include is
change
. It somehow makes a mockery of most political struggles and all the best dramatic movies where the hero bravely shouts, "I choose FREEDOM" - when many of us facing daily mundane choices actually choose repetition and habit ahead of freedom.
I am sure a movie will be made out of my struggle today … this morning, on the section of the path between the Beacon and Eype, where it splits into two sheep trails, one higher than the other but both meeting eventually by the same gate, I took the
lower
path. I thought I might die, or be hit by lightning or at least suffer severe muscle spasms but no … nothing happened. And this was despite the fact that I always used to take the
higher
path. (There is not meant to be some righteous metaphor there!)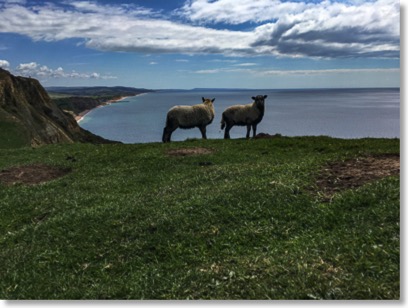 And so, I came back from the run, along the riverbank back into town, feeling tired but good, really good. I don't want to spend too much time analysing why. Only the people who do this sort of thing really know why. But I do know that today it was something to do with the fact that I
chose
not to follow the same path that I always do, I
chose
not to keep pushing myself up that hill and I
chose
to absorb the spontaneous warmth of strangers. And if you travel on foot, along this section of the magnificent Dorset coast on a warm spring day, it takes some considerable effort to make yourself feel worse.
What a joy!
Photos -
1)
Seatown - on this day there was a fleet of 6 large four-wheel drives from the Netherlands in attendance;
2)
Me - running up to the top of the Beacon in the Jurassic Coast 10K (it was blisteringly hot);
3)
I took the lower path and even the sheep were shocked.