Antidepressants
Day - 75 - Gym

[Just a Gym session today, although it was my 3rd gym session in one week - partly in a rearguard attempt to strengthen my knees and quads. Hope I haven't overdone it.]
I have come a long way since I was last in the grip of depression and I don't want to go back to that place. There is a chance that I will but at least I know that running will not be one of the reasons to take me there. In fact quite the opposite …
Antidepressants I have taken …
1 - Fluoxetine
- (also known as Prozac)
2 - Citalopram3 - Sertraline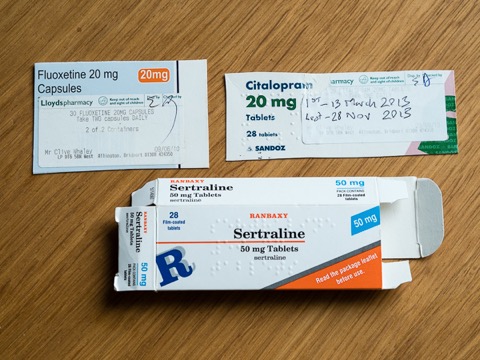 I kept the packets as evidence! Not one of the above worked for me. I took them because I felt so bad that I needed to do something. Testimonials from other people and stuff that I had read had given me faith that they might help. I know that they work for many people and in some cases they are 'life savers' but I can honestly say that on 3 separate occasions and with 3 different types of antidepressant, I never noticed any lift in my mood or mental health that came from the taking of pills. On the other hand, turning to my 4th antidepressant …
4 - Running
Beach Running from Clive Whaley on Vimeo.
Running as an antidepressant? Yes, I've come to realise that it is, although not as part of some conscious medication or prescription plan.
I have been running at least a couple of times a week for more than 35 years. For the first 30 or so of those years I had not met the Black Dog or experienced anything that could truly be described as depression.
However, in the last 5 or 6 years, having suffered from bouts of depression several times, it has made me realise that running
has
been an incredibly important booster to my mental health. I have never felt
any
lift in mood from pills but
everytime
I go running, I feel better for it. It works on so many different levels.
Obviously it keeps me physically fit. Despite continual injury niggles, I know that my heart, lungs, blood vessels, muscles, joints, bones, skin and even my brain are in much better shape than they would be without running. I do have to admit that there is an egotistical aspect to it, where I secretly think "I'm pretty fit for my age … I'll show 'em!".
Just getting outdoors, whatever the weather, especially in these beautiful coastal surroundings, and being a tiny moving part of the landscape provides, at the same time, an intimate connection with the planet
and
a freedom from everything else that was troubling me before I went out the door. You could get similar benefits from walking of course, but the greater effort, rhythm and flow that comes from the running action just adds something for me.
There is much talk of the release of 'endorphins' or the 'runner's high'. I find that a bit clichéd because I think it is both more subtle and more powerful than that. I find a deep and solitary pleasure from the mix of - physical mastery over the environment; a contented warmth in my muscles and in my heart; and a gentle flow of benevolence into my brain which reaches out and soothes adverse thoughts and feelings. So, in the end, I become a moving vessel of wellbeing.
And when I get back, after a shower, or especially after a soak in a hot bath, there is a contented glow in and around me of a quality that I cannot find from any other source than a long run back to my own front door. As T S Eliot wrote in a much re-quoted set of lines
"
And the end of all our exploring
Will be to arrive where we started
And know the place for the first time."

I've just finished reading an interesting book by Anthony Seldon, called "Beyond Happiness" within which he espouses the idea of life being a journey from narcissism to wholeness. There are several passages which I can relate to and these words sum up the feelings of all the best long runs I have ever done …
"The epic journey … is a common theme in world literature.The hero returns to the point from which he began, having gained in wisdom and self knowledge. The hero/traveller will have experienced much but is purified by the process and becomes aware of a much deeper self."


It works for me.
As I write this I am thinking, you know what, you are not currently experiencing a great deal of this sort of feeling during your marathon training. The 'tick box' mentality of my training plan, the injury problems and the 'striving ego' part of me are conspiring to knock a bit of joy out of my running. I shouldn't let that happen but I am the architect of my own displeasure. A change of attitude would help a bit but mainly I tell myself that when the London Marathon is over I will return to real running; running for the sake of it; running not for plans, targets and times but for sheer pleasure, for sheer joy. I need little persuasion to write myself a free prescription for the most effective antidepressant I know.